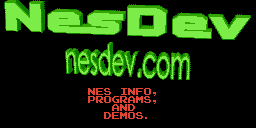 Forums | Wiki



Send dead link reports, error corrections, or any files or links that should be here to
If anyone out there is multi-lingual, and would translate any of these docs to any language, contact me.
Also, if there are any older docs on here that are known to be horribly inaccurate to the point of being useless, let me know so I can kill it.


main site - mirror #1 (HTTP) (HTTP) - mirror #2 (ED2K, 2003) - mirror #3 (outdated)
wiki mirror (August 2016)
2-22-2010 update: PC Apps / PC NES transfer cable v1.30 by sepi. Connects a PC parallel port to the NES control port, schematic included. It allows you control a game with a PC keyboard to log and play back button presses. Previous versions: [v1.2]
2-19-2010 added: PC Apps / 6502 / nlgen by Derek Andrews. Converts CA65/LD65 listings and map file into namelist files consumable by the FCEUXDSP 1.07 emulator.
6-22-2009 updated: link to new NESdev wiki.
12-6-2008 added: Commando.
11-9-2008 added: Fighter F-8000.
10-7-2008 removed: broken links (thanks, Roth).
Notices
Please do not download copies of the site via programs like wget or SiteSucker. Please download the mirror instead.
2004 MiniGame Compo ended Sunday, August 29, 2004.
The messageboards are open. The old boards are still readable.
Consider making a donation of any amount to help pay for hosting costs (which includes every site hosted on Parodius). The paypal link will be found on Parodius' main page.
The Cheapocabra developer cartridge is in production by Membler Industries. More details to come.
---
Site Index
---
NES Music

Text Files
NES
General information about the Nintendo Entertainment System, or Famicom.

6502
Information about the 6502. The NES's 2A03 CPU is a modified 6502.

Famicom Disk System
Information about the Famicom's floppy disk add-on.
Etc.
Information about the NES/Famicom's add-ons, or anything that doesn't pertain to another category.

Emulation
Information related to the emulation of the NES/Famicom.

Dr. PC Jr.
The Doctor PC Jr. is a Chinese computer based off the NES/Famicom. Visit Dr. PC Jr. Development Page for extended information.
BIOS ROM A dump of the BIOS ROM from the Dr. PC Jr.
DOS disk The files from the OS disk of the Dr. PC Jr.
CATalogue v1.0 by Chris Covell. Uses the 'Cue-Cat'.
SNES
The well-known sequel to the NES, both castrated and enhanced. Only stuff unavailable elsewhere will be featured here.

---
NES Programs
Source code is included unless otherwise indicated.





---

stuff by Quietust
---

stuff by Sergey Ryumik
GZS Generator of sound signals.
GITS2 PAL TV test program.
GITS Television quality test program. Here is the Russian version with extended information.
---

stuff by abonetochew
Bill World Early version of a game.
Blocks A demo that draws it background using 2x2 tile blocks.
Megaman X Sprite Displays a Megaman sprite from the SNES game, Megaman X. Kinda buggy.
---

stuff by SnowBro
BombSweeper v.5 by SnowBro. A clone of a Nintendo "Game & Watch" puzzle game of the same name. No sources.
Sound testing program by SnowBro. It lets you toggle the bits of the sound registers.
---

stuff by HNO3
---

stuff by Damian Yerrick
---

stuff by Lasse Öörni (Cadaver)
NES Sound Test Music code. Plays the Goldrunner song.
NES Scrolling Test Multidirectional scrolling test program, also detects PAL/NTSC. Uses MMC1 mapper + one screen mirroring. Player 1´s controller adjusts scrolling (and A or B buttons stop scrolling).
---

stuff by Chris Covell
---
stuff by Tony Young
---
stuff by Ian Bell
Elite by Ian Bell and David Braben. There never was an NTSC release of this game, but later hack was released which allowed it to run on an emulator (with the right settings). Won't work on a real NES or accurate emulator. No sources. [site]
Tank Demo A demo of an unfinished tank game, using the pseudo-bitmap graphics engine from Elite. Download the source here
---
stuff by Morgan Johansson
Fade to Black by Fredrik Schultz and Morgan Johansson (authors of A/NES). It's a picture of Metallica with a nice rendition of 'Fade to Black'. No source code.
Sound testing program by Morgan Johansson. Test the sound registers.
---
stuff by Tennessee Carmel-Veilleux
Power Pad Test Program No source.
Snow Intro Code by Repulse, graphics by _Bnu, and music by Random, which was re-done for the NES by Memblers. The music code was written by Bananmos. No source.
---
stuff by Memblers
---
PC Programs
6502 Tools
Most popular assemblers

cc65 A portable 6502/65c02/65c816 assembler, linker, and C compiler.
asm6 A simple portable 6502 assembler.
NESASM 3 by Charles Doty, David Michel, and J.H. Van Ornum, originally part of MagicKit. (Also older NESASM v.1)

Other tools
Graphic Tools
Misc.
Sound Tools
---
Amiga Programs
6502 Tools
WLA DX A GB-Z80/Z80/6502/6510/65816 macro assembler.
Graphic Tools
Raw2CHR by Chris Covell. Converts graphics from RAW to the NES's format. C source code is included.
CHARlie by Chris Covell. Optimizes graphics in CHR roms by removing duplicate tiles. C source code is included.
CHR2NAM by Chris Covell. Makes a nametable from your CHR rom. C source code is included.
Misc Tools
FDSList v1.2 by Chris Covell. Lists and extracts files from Famicom disk images. Supports FDS format.
AmiGenie by Chris Covell. Converts between Game Genie codes and hex addresses.
---
hardware info
more patent docs will be added eventually..
console hardware
cartridge hardware
Note: Goroh's docs are in japanese
---
NES hardware projects
---
links
music
NES-related
misc. tech
home pages
6502
misc 6502

graphics were ripped from other pages.

Horde soldier: "Surrender, citizen!"
Bo: (laughs) "I'm not a citizen, I'm a rebel."
-from the He-Man cartoon, The Secret of the Sword.


---
NES freaks have been here since 12-11-1999

This site is graciously hosted by 8BitAlley.